CNC grinfing
High-end machining of milled and turned parts
Our competence in grinding
Surface, cylindrical, profile, non-circular and thread grinding

With our sophisticated grinding technology, we give the finishing touches to surfaces after milling or turning.
Highly precise contours on many technical materials can be realised within a very short time thanks to our highly flexible and quickly adaptable CNC grinding machining centres.
SK TECHNOLOGY's outstanding strength is internal cylindrical grinding. This machining process is used mainly for cylindrical, stepped and tapered bores. Here, bores are ground in the rotating workpiece. The focus is mainly on dimensional accuracy, roundness and coaxiality.
The necessary grinding wheels are dressed using a rotating diamond roll. This results in the finest profile shapes with enormous perfection.
Our customers benefit from state-of-the-art machinery, coupled with the unbeatable experience of our employees. You too can rely on our grinding technologies.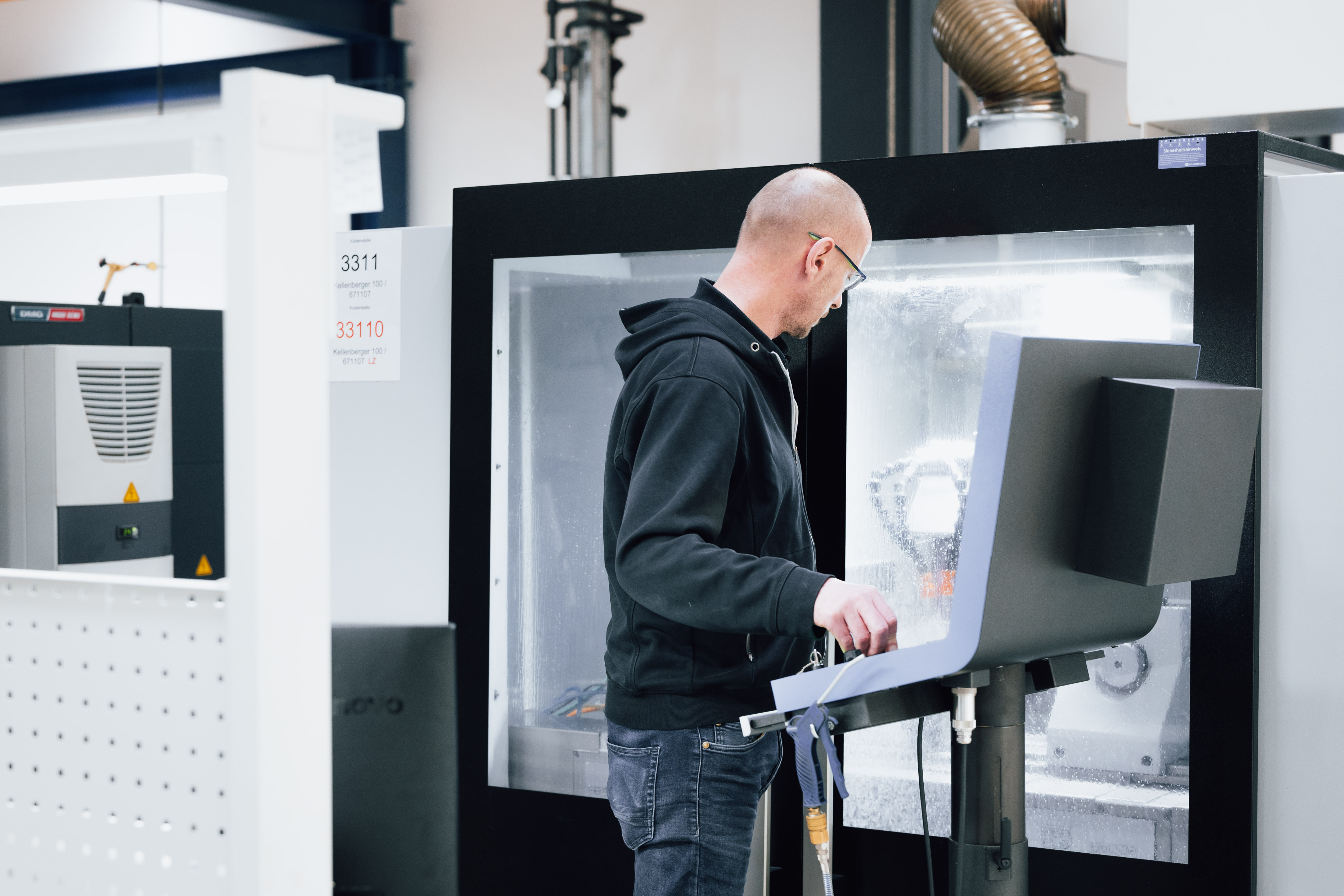 Max. machining size in surface grinding
Max. machining size in cylindrical grinding Ø 350 x 1.000 mm
Max. machining size in profile grinding 400 x 200 mm
Prototype machining
Zero series production
Small-batch production
All common tool steels, hard or soft
HSS and hard metal
Ceramics
Honing – precision machining
Honing is a machining technology that is carried out in the µm range. Therefore, it requires absolutely top precision. Our honing machines guarantee maximum accuracy in terms of shape and dimension and the highest surface quality of the inner surfaces during production.
Lapping – high-precision plane surfaces
Lapping is considered a fine machining technology that is gentle on the material. The lapping process helps us achieve the highest requirements for shape accuracy, dimensional tolerances and surface qualities in the 0.1 µm range.
Honing: max. machining size Ø 1,5 – Ø 50 mm,
depth 130 mm
Lapping: external Ø 480 mm, working wheels Ø 1.200 mm
Prototype machining
Zero series production
Small-batch production
Production of medium batch sizes
Stainless steel, as well as all commonly available steel grades
Titanium and other materials
Non-ferrous metals
We work with grinding machining centres of the latest generations:
5 CNC cylindrical grinding machines
4 CNC profile and surface grinding machines
1 honing machine
1 lapping machine
We handle surface treatment, heat treatment, welding, sheet metal forming and additive manufacturing with the help of specialised, certified partner companies.
Component finishing & assembly
Workpieces are deburred and polished. We install individual components in finished prototypes or mechanical assemblies, including functional tests and documentation.
Using transparent, digital precision technology, we master the most complex requirements in precision technology with the highest quality standards and ambitious delivery times.
We look forward to your exciting project.